Bac Ha Market

The Sunday market in Bac Ha is where you'll want to stock up on water buffalo, pigs and horses. Once
you're all set, you can browse for bottles of local firewater (made from rice, cassava or corn) or handicrafts made by some of the 10 Montagnard groups living near here - Flower Hmong, Dzao, Giay (Nhang), Han (Hoa), Xa Fang, Lachi, Nung, Phula, Thai and Thulao.Bac Ha is a less crowded alternative to Sapa, and arriving midweek makes for a relaxing visit. Around 700m above sea level, the highlands around Bac Ma are somewhat warmer than Sapa. Bring ear plugs so you needn't endure the 'Voice of Vietnam' echoing from the loudspeakers at market-rousing time.
Hours: Sun
Sapa
Sapa is the most popular place to go in the Far Northwest amongst budget travelers and packages tourists alike. By using Sapa as a base you can hike off to more remote 'traditional' hill tribe villages and sometimes you will be offered a bed in a village for the night. Sapa was originally built as a hill station in the early part of this century and, in winter, gets bitterly cold. If you are going to be visiting Sapa in winter do not forget the winter woollies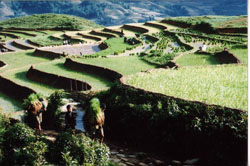 .
Sapa is preparing itself for the continuing tourist boom considerably well. Behind Sapa, towards Phong Tho is a high pass forming part of the Hoang Lien Mountains that were known to the French as the Tonkinese Alps. This range includes Fansipan, the highest mountain in Vietnam at 3,143m, which view at dawn could be spectacular.
There is a weekend market in Sapa during which the town fills up with hilltribe people selling their wares. If you want to see these tribes as they "traditionally" live (as opposed to flogging jackets to tourists), either go for a hike or head over to Dien Bien Phu from Sapa. This stretch has the most traditional people you will see in the whole of Vietnam. It seems that most tourist groups pile into Sapa during the weekend for the market. However, travelers have reported that during the week is a much better time to catch a glimpse of the real Sapa avoiding from a big hassle of tourists.
You can hike in the surrounding area and visit a number of fairly traditional predominantly Mong hilltribe villages. Further afield is the colourful Red Zao, Dzay, Tay and Xa Pho people. A home stay in the Tay village would be unforgettable experience.
Can Cau Market

Sprawling near the banks of a river, Can Cau Market is a clearly defined shantytown, packed with crude stalls covered with thatched roofs. The start of a few simple settlements can be seen high above, many of whose residents now make their weekly pilgrimage to the market. We are only 9kms from the Chinese border and some traders make the journey across from China on horseback. Unfortunately foreigners are not allowed to reciprocate this set-up, however tempting it may seem.
By 9 am, the market is crammed to capacity. It's lively and surprisingly fun. The locals are mostly of the Flower Hmong minority group. You can't miss them -their traditional costume of green checked headdress and multi-colored, meticiculosly stitched and layered garments are simply stunning. Few foreigners make it to Can Cau; those that do brave the journey come either with a small tour group in four-wheel drives, or - if half-mad and on a tight budget like me -on the back of a motorbike. The handful of Westerners here this morning are the object of intense - though friendly- scrutiny. There is much laughter as we try to make basic conversation. Although the majority are painfully shy and not accustomed to seeing foreigners, some cheerfully allow photographs to be taken.

Can Cau is predominately a livestock market and not the sort of place to buy some choice gifts for the folks back home. Beyond the fenced-in perimeter, pot-bellied pigs, chickens and water buffalo wait patiently by the river to be sold. They rub shoulders with magnificent wild horses, some of whom will be transporting their masters back over to China. But the market also sells the basics: traditional clothing, sacks of rice, bundles of coarse, raw wool and ironware. Some stalls sell fresh tobacco and a rather sad array of root vegetables. Many women sell their wares from large, wicker baskets and sit weaving whilst waiting for a sale. I note that there are many giant plastic containers lying around with attached tubes. I mistakenly think this is gasoline, but it is in fact the omni-present rice wine and some folk are spotted wisely filling up their water bottles for the long ride home. Food stalls serve bowls of steaming fat noodles in broth and indescribable plates of what I can only assume are some sort of animal innards. It is almost like being transported back in time. There are few traces of the outside world, save the occasional soccer tee-shirt cast off and digital watch. As I observe the incredible costumes, deep shyness and the dark, weather-beaten skins, it is hard to imagine that this is the same country as freewheeling Saigon City in the south. It might as well have been on another planet.
Halong Bay Promotion Tours