Victoria Sapa Resorts, Sapa Hotels, Vietnam Hotels
Validity 31 December 2013
Add :Sapa, Lao Cai Prov
Please contact us by email : sapatrain@gmail.com for the discount rate
Room Category
Week-Days
Weekends(Sat&Sun)
Standard
Superior
Deluxe
Family Studio
Suite
Booking Now
Above rate are per room per night (USD) inclusive of breakfast.
Location
Victoria Sapa Hotel is located in Sapa, 380 km Northwest of Hanoi, among the Hoang Lien Mountains, in Lao Cai Province, near the Chinese border. 1.650 meters above sea level, famous for its pristine environment, unparalleled scenery and cool climate, Sapa is home to more than 30 colourful hill tribes and Vietnam's highest peak, the 3.143 meters Mount Fansipan.
Victoria Sapa Hotel, the only luxury hotel in the area, opened in March 1998. Built as a traditional mountain chalet with an accented wooden decor and a welcoming stone hearth fireplace, Victoria Sapa Hotel overhangs the village, blending perfectly with the natural surroundings.
The location and services have been carefully planned to allow guests to experience something different and unique in close harmony with nature and the local hill tribe people.
Accommodation:
Victoria Sapa Hotel features 77 cosy rooms, including two spacious Suites and six-bed Studios on the upper level, each with a balcony offering breathtaking views. Each room combines the elegance of traditional handicraft and the comfort of an international hotel.
Victoria Superior room: Spacious 25m2 room with queen size bed or twin bed, a comfortable sitting area with sofa and a large writing desk. All rooms are at garden level and feature a terrace with sofa.
Victoria Deluxe room:Spacious 25m2 room with queen size bed or twin bed, a comfortable sitting area with sofa and a large writing desk. All rooms feature a balcony, with sofa, overlooking Mount Fansipan.|
Victoria Studio: Spacious 50m2 room with six beds and a comfortable sitting area. All Studios offer large balcony with sofa, overlooking the village of Sapa and Mount Fansipan.
Victoria Suite: Spacious 50m2 room with king size bed, a large living room area with sofa and a large writing desk. All Victoria Suites offer large balcony with sofa, overlooking the village of Sapa and Mount Fansipan.
Guests room features:
Ceiling fan
Heating
International Direct Dial telephone
Colour satellite television (CNN, TV5, MTV, AUS) and in-house movies
Mini-bar
Individual safe deposit box
Private bathroom with bathtub
Full set of toiletries
Hairdryer
Facilities:
Ta Van Restaurant
Come and taste our European and Vietnamese cuisine or indulge yourself with an appetising rustic dish such as cheese fondue or raclette, in the Ta Van restaurant with it's heart-warming central fireplace.
Ta Fin Bar
In the evening, enjoy a glass of hot red wine by the fireplace.
Cat Cat Pool Bar
Enjoy refreshing drinks and snacks by the poolside or a have a barbecue in the garden while admiring the village of Sapa and its surrounding summits.
Guest services:
Multi-lingual hotel staff
Flight reconfirmation and booking services
Sightseeing tour services
Transportation facilities
Postal services
Foreign currency exchange
Email & Internet services
Laundry services
Hairdressing & Beauty salon
Souvenir shop
Parking
Major credit cards accepted (Amex, Visa, Master, Diner's Club)
Sports & recreations:
Indoor-outdoor heated swimming pool overlooking Sapa
Tennis court
Sauna
Massage
Billiard table
Petanque alley
Free use of bicycles
Motorbike rental

Russian Jeep or minibus with driver rental
Conference & meeting facilities:
Tripod screen
Overhead projector
Slide projector
Microphone
Colour Television
Video player
Integrated sound system
Fax machine
Flip chart
White board.
The Victoria Express: The best in terms of comfort and services from Hanoi to Lao Cai, our Victoria "Orient Express" stylish train offers one restaurant and two luxury sleeping carriages, all with air-conditioning.
Train schedule: The Victoria Express Train departs 4 times a week:
Hanoi / Lao Cai: Every Monday, Wednesday, Friday & Saturday at 21:30hrs
Lao Cai / Hanoi:
Every Tuesday at 18:45hrs
Every Thursday & Saturday at 10:20hrs
Every Sunday at 20:20hrs../
Facilities & Service
Laundry
Mini Bar
Restaurant
Foreign Exchange
Parking
Room Service
TV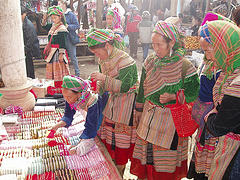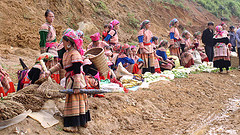 Sapa
Sapa is the most popular place to go in the Far Northwest amongst budget travelers and packages tourists alike. By using Sapa as a base you can hike off to more remote 'traditional' hill tribe villages and sometimes you will be offered a bed in a village for the night. Sapa was originally built as a hill station in the early part of this century and, in winter, gets bitterly cold. If you are going to be visiting Sapa in winter do not forget the winter woollies. Sapa is preparing itself for the continuing tourist boom considerably well. Behind Sapa, towards Phong Tho is a high pass forming part of the Hoang Lien Mountains that were known to the French as the Tonkinese Alps. This range includes Fansipan, the highest mountain in Vietnam at 3,143m, which view at dawn could be spectacular. There is a weekend market in Sapa during which the town fills up with hilltribe people selling their wares. If you want to see these tribes as they "traditionally" live (as opposed to flogging jackets to tourists), either go for a hike or head over to Dien Bien Phu from Sapa. This stretch has the most traditional people you will see in the whole of Vietnam. It seems that most tourist groups pile into Sapa during the weekend for the market. However, travelers have reported that during the week is a much better time to catch a glimpse of the real Sapa avoiding from a big hassle of tourists. You can hike in the surrounding area and visit a number of fairly traditional predominantly Mong hilltribe villages. Further afield is the colourful Red Zao, Dzay, Tay and Xa Pho people. A home stay in the Tay village would be unforgettable experience.
Bac Ha Market
The Sunday market in Bac Ha is where you'll want to stock up on water buffalo, pigs and horses. Once you're all set, you can browse for bottles of local firewater (made from rice, cassava or corn) or handicrafts made by some of the 10 Montagnard groups living near here - Flower Hmong, Dzao, Giay (Nhang), Han (Hoa), Xa Fang, Lachi, Nung, Phula, Thai and Thulao.Bac Ha is a less crowded alternative to Sapa, and arriving midweek makes for a relaxing visit. Around 700m above sea level, the highlands around Bac Ma are somewhat warmer than Sapa. Bring ear plugs so you needn't endure the 'Voice of Vietnam' echoing from the loudspeakers at market-rousing time.
MEKONG DELTA TOURS - MEKONG BOAT TOURS - CRUISE MEKONG VIETNAM